The signing, a century ago this week, of the Anglo-Irish Treaty echoed the signing of another document five year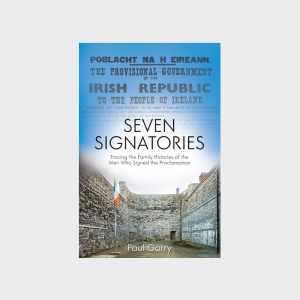 s earlier.  The Proclamation of the Irish Republic was signed by seven men in Easter Week 1916.  It was, in a sense, an ancestor of the Anglo-Irish Treaty.
The seven men who signed the 1916 Proclamation were from diverse backgrounds – socially, religiously and ideologically.  Privilege and poverty, the Gaelic Revival, emigration and immigration, religious conversion and mixed-religion marriages all featured in one or more of the families.
People often think of nineteenth-century Ireland as being segregated between Catholic and Protestant, with mixed marriages a rarity. The backgrounds of the signatories of the Proclamation and their wives give an insight into a different Ireland.
My book Seven Signatories: tracing the family histories of the men who signed the Proclamation examines each of the families, dispelling myths and confirming the facts of these men's backgrounds.  It also illustrates the range of sources that may be used in Irish genealogy.
I enjoyed the research thoroughly.  It was undertaken in 2015-2016 on behalf of the Irish Family History Foundation (Rootsireland.ie) for its online magazine.  Later it was decided to publish it in book form, with the support of Kildare County Council and the Kildare Decade of Commemorations.  It was published by Merrion Press.  The book is available to purchase from my stall on the Wicklow Marketplace.