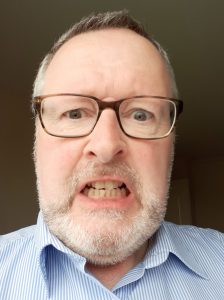 I'm led to believe that it was Mark Twain who said 'never let the truth get in the way of a good story', but who knows?  Who cares?  Truth is a commodity much less valuable than perception.  Get a celebrity into a graveyard, show him any old gravestone and tell him it's his ancestor's.  What does it matter?  Who's going to know any different?  Well, it matters to me.  And I would imagine that the people of Kilcronaghan in Derry probably know the difference.
I've loved genealogy for more than half a century: since I was a child: since before I knew it was called 'genealogy'.  I've worked in genealogical research for more than forty years: since long before big corporations turned family history into an 'industry' and introduced it to greed, extra charlatans, algorithms and online trees: long before television made it 'popular', under the heading of entertainment rather than documentary.
You have to put up with the commercialisation and everything ugly that goes with it.  You learn to live with the over-simplification and heightened expectations promoted by the television programmes.  These have been good and bad for genealogy as a pursuit and as a profession.  What I cannot tolerate, and why I'm mad as hell just now, is programme makers treating genealogy as nothing but a theatrical prop for reality tv.
Some months ago my Gorry Research colleague drew my attention to the first episode (seen on Netflix) of a television series called Ant and Dec's DNA Journey.  It was completed in 2019 by Voltage TV Productions and Mitre Television for ITV.  On Tuesday 17 August it was broadcast in Ireland by RTE and I had the displeasure of having it assault my eyes and ears.
Poor Ant and Dec apparently 'devised' the idea with someone's uncle, but then someone else ran with it – in a down-market direction.  It wasn't all bad.  Ant and Dec came across as genuine and honest, if a little too giddy.  By the way, Ant McPartlin and Declan Donnelly are hugely popular English television presenters and both are from families of Irish Roman Catholic origin.  It was only when the programme concentrated on the magical qualities of DNA and the unimportance of actual genealogical research that the trash hit the fan.
I'm always wary of people who describe themselves as experts.  Jim Wilson, Professor of Human Genetics at the University of Edinburgh, introduced himself in the programme as a 'DNA expert'.  Undoubtedly he is a DNA expert.  He has published innumerable peer-reviewed papers on genetics in relation to various diseases, he has been a talking head on many television programmes, and for more than a decade he was 'involved in a genetic ancestry testing business'.
Had any inherited diseases been identified in Ant and Dec's ancestry I could understand the presence of this particular DNA expert.  In relation to the family history aspect, I'd have thought that one of the many reputable genetic genealogists out there would have been more suited to the task.  However, Professor Wilson was very good at simplification for the entertainment of the casual viewer:
I can analyse this DNA and find out where those ancestors came from, who they were and I can even find family living today – DNA cousins.
Of course, we all know that DNA doesn't tell you where someone's ancestors came from and who they were.  It's only when DNA results are used in conjunction with actual records that such details are revealed. But who cares?  Goggle Box viewers can't take in complex concepts and it's much better to have an expert feed them popcorn-shaped facts.
When it came to actual genealogical research (or, as it's becoming know, traditional genealogy), and particularly genealogical research in Irish records, Professor Wilson's DNA expertise had lost all relevance.  He adeptly disguised his lack of knowledge with derogatory remarks about 'crappy' Irish records:
… So I found this new branch of Dec's family tree and I haven't done it using paper records, the old way where you look for births and marriages and deaths, because these records are pretty crappy to be honest in Ireland at that point in the past.  We instead used DNA, looked in Dec's DNA and we looked in a large database and we found a lady, Dixie from the United States, who matches him.  That means she and he share a huge chunk of DNA identical to each other, which shows me that they descend from a common ancestor a hundred and fifty years ago.
Ah, that makes perfect sense!  Professor Wilson faded into the background after Dixie, the female wrestler from Texas, came to Ireland to meet her 'DNA cousin' Dec.  The next expert (though he never claimed to be one) was 'Family Historian Brad'.  He was more formally introduced as Brad Argent of Ancestry.  Actually he is 'Head of International Programming at Ancestry', based in England but from Australia.  His status as a 'Family Historian', let alone a 'Family Historian' in relation to Ireland, is unclear.
The scene filmed in the ruins of Kilcronaghan church would qualify as a master class in how NOT to research family history.  By this point in the programme it was well established that Dec's ancestor, James Donnelly, was Roman Catholic and apparently a not very successful British Army soldier.  We will disregard the strange explanation about what 'the Irish' did when they enlisted into the British Army.  It was eclipsed by more serious matters.
In the church ruins Brad explained to Dec that this ancestor, James Donnelly, was baptised in 1827 in that very church.  Wow!  A little bit of social history might have informed Brad that back then Catholic baptisms didn't necessarily take place in a church.  Furthermore, the surviving baptismal records of Desertmartin & Kilcronaghan RC parish date only from 1848.  However, more to the point, the ruins they were standing in were those of Kilcronaghan Church of Ireland (Anglican) church.
The next leap of faith taken by 'Family Historian Brad' was to show Dec a gravestone on which a John Donnelly and his wife Mary were named, along with their sons John (died 10 December 1872 aged 73) and James (died 5 February 1874 aged 78).  There is nothing unusual about a Catholic family having a burial place in a C of I churchyard, as any Christian had right of burial there while the C of I was the Established Church.
About the gravestone, Brad explained the probability: So that's most likely your Dad's family and they're buried here.
Then Brad expressed certainty: When we found the gravestone we automatically stepped back another two generations to John.
Then Brad reverted to possibility: So I think this is James's father and grandparents.
For clarity, the narrator explained: This takes Dec back to his four times great-grandfather John Donnelly.
The graphic showed this most remote John Donnelly (1755-1839) as father of John Donnelly (1799-1872), father of James Donnelly (1827-1891), the one who joined the British Army.
When my Gorry Research colleague saw this episode on Netflix some months ago it seemed a bit too pat.  So, using the 'crappy' paper records, 'the old way', she looked for the death records of the sons named on the gravestone – John in 1872 and James in 1874.  She found both.  They both died in the townland of Gortahurk in Kilcronaghan parish, and both were unmarried.  So, John Donnelly (1799-1872) was not the father of James Donnelly (1827-1891) who joined the British Army.
Having watched this charade on RTE this week, I did a little further investigation in the 'crappy' Irish records.  The 1874 death record of James of Gortahurk had William Donnelly of Gortahurk as the informant.  In the 1901 Census there was only one Donnelly household in Gortahurk and it was that of a William.  He gave his religious denomination as Baptist.  This fact pours more cold water on the exciting news about the Donnelly gravestone of convenience.
There is one more 'crappy' Irish record that hammers home the fact that Dec Donnelly is not descended from the family whose memorial was used to make a television programme more colourful.  The 1831/34 Census survives for all of Co. Londonderry.  It lists heads of household and numerical returns for the inhabitants of each house, as well as religious denomination.  There were four Donnelly households in Gortahurk, those of John, Henry, William and Henry Junior.  Henry's family was returned as Presbyterian, while the other three families were returned as 'Other Protestant Dissenters'.
The 1831/34 Census reveals that there were various Donnelly households in Kilcronaghan parish.  Some were Roman Catholic.  Others were Church of Ireland, Presbyterian and 'Other Protestant Dissenters'.  The possibility that Dec's ancestors were the Baptists who lived in Gortahurk and erected a memorial in Kilcronaghan churchyard is less than negligible.
I would like to think that lack of knowledge of the basics of genealogical research rather than deceit was responsible for this appalling travesty. Who knows? And does it matter?  Spread the Genealogical Virus and pass the popcorn.