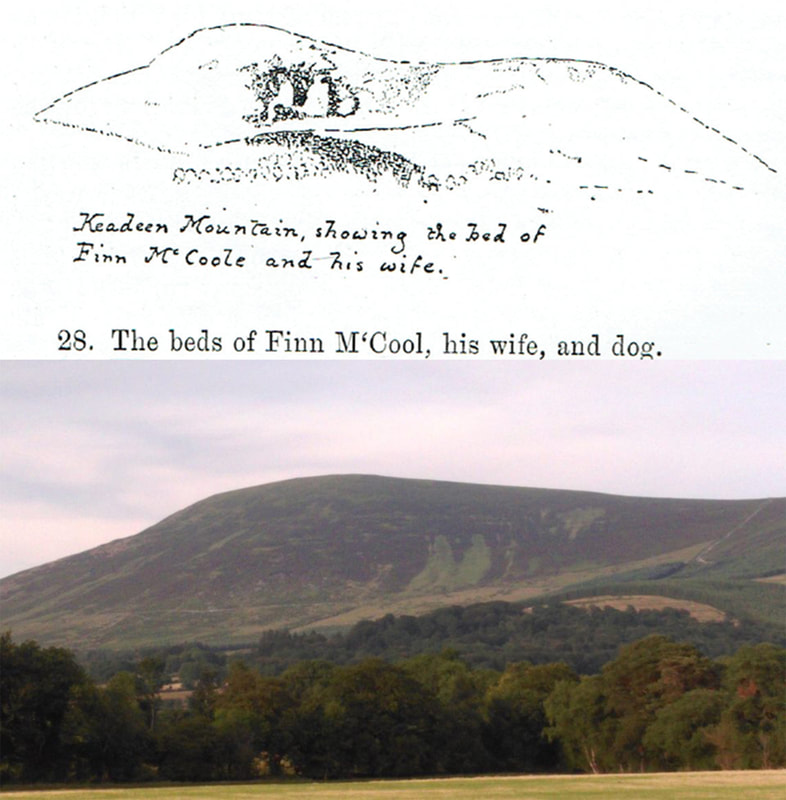 ​Earlier this month, on Facebook, I posted the first of two short pieces about the figures of Finn McCool and his wife on the side of Keadeen Mountain in West Wicklow.  Actually the figures are on the western face of what is two mountains in one, Keadeen having the higher, northerly summit and Carrig the slightly less talked-about southerly one.  Here is what I said:
FIRST POST
In the January 1905 number of the Journal of the Co. Kildare Archaeological Society (Vol. IV No. 5), Charles Drury published an article, 'County Wicklow Archaeological Notes Around Kiltegan'. He covered folklore associated with 34 locations (many some distance from Kiltegan). No. 28 was 'The beds of Finn M'Cool, his wife, and dog', with no further explanation. Evidently Finn McCool's spot on the side of Keadeen was an old folk tale by 1905. So 113 years later it's a very old folk tale.
When I was young my father pointed Finn McCool and his wife (and maybe his dog) out to me. I've been very fond of them ever since. I see them most days I go cycling. They can be viewed from a long distance, though their dog is not quite as conspicuous. Coming into Baltinglass from Castledermot at Clough Cross is a good place to see them from. At the side of Talbotstown Church is another. It's not that easy to get a good photograph of them as they are always quite far away, no matter where you are.
Two weeks ago I shared this photograph of them on my personal Facebook page because Finn McCool and his wife were quite visible when I was out cycling. Normally they are a sort of light brown / straw colour. In the present, unprecedented heatwave the grass everywhere around turned to straw and the McCools turned green!
RESPONSE
In response to that post I got several comments.  One questioned which of Finn's wives was with him, as 'Did not Diarmuid run away with Gráinne, Finn's wife?'  I replied:
My wonderful Googling skills have unearthed the information that Sadhbh was Fionn (Finn)'s most famous wife and that Gráinne was his wife when he was at an advanced age.  I'll give the name of Sadhbh to Mrs. McCool of Keadeen from now on!
Another response was from Duncan, a local man much younger than me, who was told when he was a child by an old man named Paddy Kelly that the legend of Diarmuid and Gráinne was depicted on the side of the mountain.  He said 'Hounds visible either side of Gráinne and Diarmuid, Finn and hounds visible on the left side of the mountain chasing them'.
Apparently Duncan believed that the Finn McCool and wife figures were those of Diarmuid and Gráinne.
SECOND POST
I'm afraid the additional story of Diarmuid and Gráinne in relation to Keadeen is of recent origin! The folk tale of Finn McCool and his wife [possibly Sadhbh] on Keadeen is an ancient one. I only heard Diarmuid and Gráinne added this week! That aspect may have been the invention by Paddy Kelly, who told Duncan when he was a child.
A good measure of folk memory is the National Folklore Commission's Schools' Collection, dating from the 1930s. Of course, 1930s children didn't always get things right, but the collection can help us know about traditions from 80 years ago. There is one mention of Finn McCool on Keadeen in the Schools' collection. It's from Talbotstown National School, and dated 27 May 1938 (The Schools' Collection, Volume 0917, Page 171). I'm reproducing the image of the relevant section here, acknowledging the National Folklore Collection's copyright.
It would appear that the information from Talbotstown was written by the teacher rather than any of the children, as no child's name is given and the composition and penmanship are advanced and consistent. The informant about Finn on Keadeen was Mr. Richard Geoghegan of Danesfort, 'whose father resided at Talbotstown'. Richard Geoghegan was living in Danesfort at the time of the 1911 Census, stating his age as 36. In 1901 he was living in Talbotstown Upper, stating his age as 26. So he was born about 1880.
The tale told by Mr. Geoghegan in 1938 was that Finn and his wife died on the western slope of Keadeen. It's interesting that the writer says 'The remarkable thing about it is that even when the rest of the mountain looks green in the distance the two brown patches stand out in contrast to the rest …'. That's exactly the opposite of what is happening in the present heatwave, as I remarked in recent weeks.