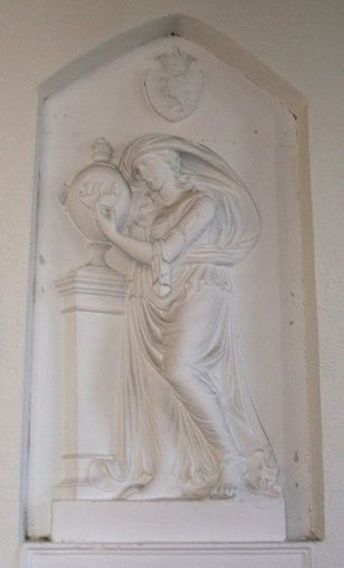 Aldborough memorial, St Mary's Church, Baltinglass
​Oliver and Margaret Walsh may never have been internationally recognised figures, but they had a significant impact on the world.  Were it not for them the Abbey Theatre might never have been founded, the word 'Disneyland' would mean nothing to anyone, and the course of the Second World War might well have been different.
When Margaret Borrowes married Oliver Walsh she was probably looking forward to a happy life, to having children, and to the relative comfort she was used to.  The Abbey Theatre, Disneyland and the Second World War were far from her thoughts, as they were then unimagined developments of the distant future.  Oliver and Margaret lived in Ireland in the seventeenth century.  The happenings of the twentieth century were for their famous descendants to influence.
By the standards of the time Oliver and Margaret were prosperous people.  He was what was termed a 'gentleman' and he had the means in 1639 to purchase lands at Ballykilcavan in what was then Queen's Co. (now Laois).  Margaret was from Gilltown, Co. Kildare, some twenty miles away.  They both witnessed the 1641 Rebellion, in which her father lost heavily for his support of King Charles.  They were again bystanders when in 1649 the wrath of Cromwell descended on Ireland.
Cromwell died in 1658, and so too did Oliver Walsh, bequeathing his DNA to posterity.  Three years later his and Margaret's son, another Oliver, married Editha Hunt of Dublin.  About the same time their daughter Mary married a young man from Warwickshire named Robert Stratford.  With the restoration of the English monarchy in 1660, Charles II was trying to perform a miracle of loaves and fishes in confirming Irish land to Cromwellian soldiers while restoring the same land to dispossessed royalists.  It was a chaotic time 'when land was cheap and money dear', and Robert Stratford snapped up some bargains, buying or leasing various properties.  One of these was the town of Baltinglass, Co. Wicklow, and he settled there with Mary.
Oliver and Editha Walsh remained at Ballykilcavan, which is still today in the possession of descendants.  Their daughter Rebecca married Toby Caulfeild of Clone, Co. Kilkenny.  A century later, in 1795, Rebecca's great-great-granddaughter, Frances Best, married a farmer called Kepple Disney.  In the 1830s Frances and Kepple's son Arundel left Ireland with his wife and their infant son, sailing for New York.  They later settled in Ontario in Canada, but the son moved to Kansas.  His son Elias settled in Chicago, where he worked as a carpenter, and it was there that his son, Walt Disney, was born in 1901.  So if Oliver and Margaret Walsh had never married the man who turned his surname into a byword for fantasy and entertainment would never have existed.
Returning to the Stratfords, Robert must have done well out of his property speculation in the 1660s, as he was able to marry off his seven daughters quite respectably and leave his son Edward in a comfortable position.  Despite heavy losses incurred in his support for William of Orange in the civil war fought out in Ireland against James II, Edward Stratford prospered.  His son John was eventually elevated to the peerage, first as Baron Baltinglass in 1763 and ultimately as Earl of Aldborough in 1777, the year of his death.  John's son Edward was the 2nd Earl.  As well as developing the town of Baltinglass, constructing Aldborough House in Dublin and Stratford Place in London, he dreamt up a new industrial town in Co. Wicklow which he called Stratford-on-Slaney.  For decades it was a prosperous textile manufacturing centre but after the industry failed it dwindled to the quiet, pleasant village it is today.  There were four more earls of Aldborough, the last being an eccentric recluse who died in 1875 at Alicante in Spain.
In 1697 Abigail Stratford, one of the seven daughters of Robert Stratford and Mary Walsh, married George Canning of Garvagh in Derry.  Their only surviving child was Stratford Canning.  Stratford's eldest son, George, was a great disappointment to him.  Having got himself into serious debt in London, he was bailed out by his father but in return had to renounce his inheritance.  Then, in his early thirties and still in London, he married a young lady with no fortune, fathered three children and died after less than three years of marriage.  His impoverished widow was forced to take to the stage and she drifted into an even more socially unacceptable position as the mistress of a disreputable actor.
At the time of George's death his second child was a year old.  He was another George Canning.  He spent his early childhood in near penury before being rescued by the Cannings, who paid for his education at Eton and Oxford, where he gained a reputation for academic brilliance.  Entering politics, he rose to the position of Foreign Secretary during the Napoleonic Wars, but lost it after being wounded in a duel with a political rival, Lord Castlereagh.  However, he returned to that office in 1822 following the suicide of the erstwhile Lord Castlereagh, then Marquess of Londonderry.  After a successful five years as Foreign Secretary, in April 1827 he became Prime Minister of the United Kingdom.  However, he became ill in July and died on 8 August at the age of 57 after serving one of the shortest terms of any British Prime Minister.  In his day George Canning was regarded as a man who rose from humble origins to the highest political office on his own merit, a unique achievement in nineteenth century Britain.  Though he visited Ireland only once, both his parents were born in the country and he referred to himself as 'an Irishman born in London'.  He was also a strong advocate of Catholic emancipation, a position that would have horrified his great-granduncle, Edward Stratford, the staunch supporter of King Billy.
That Edward Stratford's daughter Elizabeth married Charles Plunkett of Dillonstown, Co. Louth.  Their daughter Anne married the 5th Earl of Antrim in 1739.  Anne's only son, Randal, became the 6th Earl on his father's death.  He eventually married but had no son to inherit the title.  He obtained a new patent in 1785 allowing for his three daughters and their male issue to succeed.  On his death in 1791 his sixteen year old eldest daughter, Anne Catherine, became Countess of Antrim in her own right.  She married Sir Henry Vane-Tempest but their only child was a girl named Frances Anne.  She could not inherit her mother's title as it was limited to her male heirs, so the earldom passed to Frances Anne's aunt.  However, on his death in 1813 Sir Henry left his daughter a very rich heiress, with an estimated £60,000 a year.  Lady Frances Anne might have attracted all the gold diggers in London.  However, her mother encouraged the attention of Charles, Lord Stewart, a forty year old widower.  Though he was twice her age, he had a sizeable income of his own and very good connections.  They married in 1819.  Three years later Charles's half-brother, the Foreign Secretary popularly known as Lord Castlereagh, committed suicide.  Frances Anne's distant cousin, George Canning, became the new Foreign Secretary and she herself became the Marchioness of Londonderry.
Lady Londonderry's eldest daughter, Frances, took a further step up the aristocratic pyramid by marrying the Marquess of Blandford, as he later succeeded his father as Duke of Marlborough.  While her husband served as Lord Lieutenant of Ireland in the 1870s there was a threatened return of famine, and Frances, Duchess of Marlborough set up a relief fund that raised £135,000.  While in Dublin the Marlboroughs resided at the Viceregal Lodge (now Áras an Uachtaráin).  That was how it came about that their grandson Winston Churchill's earliest memories were of being in a pram in the Phoenix Park.  Though he was a Nobel Prize winning writer, it was through his leadership of the United Kingdom during World War II that his memory became immortalised.
Producing two British prime ministers was not the only legacy to the world from the Stratford branch of Oliver and Margaret Walsh's family.  Many descendants were prominent in politics and the arts.  Included in their number was Charles Stewart Parnell, who led the constitutional Irish nationalist movement from the 1870s.  On the other hand, so was Sir Basil Brooke (Lord Brookeborough), leader of the unionist movement in the mid-twentieth century and Prime Minister of Northern Ireland.
Another descendant was Augusta, Lady Gregory, one of the founders of the Abbey Theatre which influenced Ireland's cultural identity at the beginning of the twentieth century.  The artist Sir William Orpen was hardly aware of Oliver and Margaret Walsh, or his distant relationship to Churchill when he painted the future legend's portrait in 1915.  There were other artistic individuals hidden in the branches of the extensive family tree grown by Oliver and Margaret.  The architect Sir Thomas Newenham Deane was one of them.  Among his works were the National Library and National Museum in Kildare Street, Dublin.  The popular twentieth century author Elizabeth Bowen was another.  The Canadian-born Hume Cronyn who died in 2003 was a Broadway star and a Hollywood character actor whose films ranged from Hitchcock's Shadow of a Doubt in the 1940s to television movies made in the 2000s.  Along the way he starred with his wife Jessica Tandy in such films as The World According to Garp and Cocoon.
In the world of the arts today the most prominent offspring are the Irish singer-songwriter Chris De Burgh, and the highly successful English acting brothers Ralph and Joseph Fiennes, who spent part of their childhood in Ireland.  Their kinsman, the explorer Sir Ranulph Fiennes, is another Stratford descendant.  Another celebrity descendant is the 2003 Miss World, Rosanna Davison, who is the daughter of Chris De Burgh.  Jemima Goldsmith, wife of the Pakistani cricketer and politician Imran Khan, inherits her Walsh blood from the Londonderrys.  Oliver and Margaret have royal descendants in Princesses Beatrice and Eugenie of York, whose mother, Sarah Ferguson, traces her ancestry from the Stratfords through the Wingfields of Powerscourt.
Oliver and Margaret are thirteen generations back from Rosanna Davison and the princesses.  Beatrice and Eugenie are Rosanna's eleventh cousins.  They are ninth cousins three times removed of Walt Disney.  Most people have no contact with relatives as remote as third cousins, and few have traced their ancestry back any more than about five or six generations.  So most people have no idea of who else might be sharing their bloodlines.
Today there are thousands of Oliver and Margaret Walsh's progeny all over the planet.  They are by no means all wealthy, famous, or successful people.  They are in all walks of life, and most are unaware of the seventeenth century Irish couple whose DNA contributed to making them the individuals they are.  Oliver and Margaret may not have done remarkable things during their lifetime, but without them the world's history would have taken a slightly different shape.  That should be a sobering thought for any parent.
[First published in Ireland of the Welcomes, Vol. 55, No. 1 (January-February 2006)]